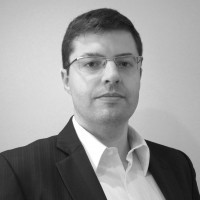 With more than 10 years of experience creating and developing websites, since 2007 I have been freelancing fulltime for clients of various business segments. I have a large number of published projects including corporate, e-commerce and promotional websites. I am based in Curitiba, Brazil.
LinkedIn Profile | Toptal Profile | SitePoint Premium Profile
I am a graphic designer by formation, but a web developer by experience. Despite the design background, I've always been interested in the web and its related technologies. Today, I work with front end development (HTML, CSS, JavaScript) and with PHP and CodeIgniter for custom back end systems for my clients.
I have built online courses about the subject of front end development, both in Portuguese and in English (in partnership with Sitepoint Premium).
Technical proficiency
Specialist in HTML, CSS and website building
Advanced knowledge in JavaScript, jQuery, PHP, CodeIgniter and MySQL
Experienced in interface and graphic design
Essential skills in Photoshop and other related tools used in the website development process
Colophon
This website was hand-coded in HTML and CSS using Sublime Text with the Emmet plugin. The back end is built on the CodeIgniter PHP framework. The font used is called Lato, available on Google Fonts.